~~ The Pillbox ~~
Starting at $75
This hat is oval or round with tapered sides and no brim. The cap sits on the back of the head and may be made in Velvet, Satin or Brocade to match or contrast your gown

This hat may be decorated in your choice of pearls, trims, beads, or left unadorned.

Lacing rings on the underside allow you to hold the headpiece in place with with ribbon ties that go under the hair, or remove the ribbons and add a hairpin or two to secure your headwear on windy days.. Constructed in canvas, wire and then covered with your choice of velvets.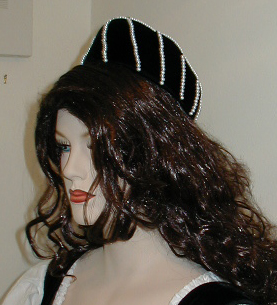 If, after reading all of the information in this item's description, you have any remaining questions, please feel free to contact us: click here for information about contacting Arcane Lore
Copyright © 1998 - 2014 ArcaneLore, All Rights Reserved
Makes of custom Renaissance, Tudor, Elizabethan, Medieval, Celtic, Period clothing
bridal gowns, garb, menswear, wedding dresses - wear the magick