~~
The Accolade Gown

~~
Medieval Wedding Gown
Bel Sojno (Beautiful Dream)©

Renaissance Wedding Gown

Shown in Peach skin faille, with heavy gold trim. Starting
at just $1099

This gown is modeled after the gown worn by the princess
depicted in the Edmund Blair-Leighton's beautiful painting "The Accolade".

The Classic Accolade Gown Bel Sojno (Beautiful Dream).

Made in Candlelight Peachskin Faille or White Sandwashed Crepe
3/4 lining
relaxed fit princess seam gown.
adjustable arm cuff
Heavy metallic Gold or Silver trim at neckline, armbands and belting.
Beautiful puff top sleeve with bell bottom
Optional under sleeve
Chapel train
Back lacing with eyelets in gold or silver tone.
We now offer this gown in Plus, Queen and Bountiful sizes. see order form for prices and sizing or inquire with your needs.
Optional cost the sure-fit toile system. Let us do your alterations while your gown is made.


Candlelight, Grape, Scarlet, Burgundy and Hunter Peachskin faille gowns or White Sandwashed Crepe $999.00
(shipping is not included-please see order form for correct shipping to your country)

Embroidery may be added to the sleeve for an additional $35
For a fully embroidered gown please see our Celtic Accolade Gown
| | | |
| --- | --- | --- |
| | The gown has a decorative belt that matches the trim along the neckline and sleeves. | |
The detachable Watteau train is available in these styles:

Chapel (108 inches) $199
Cathedral (144 inches) $299 (shown below)
Royal Cathedral (216 inches) $350
This gown is available in sizes 6 through 20, by our sizing chart only (additional charges apply for plus or petite sizes)
The gown is available by custom order only. Orders requiring less than 4 months will require immediate attention and will require additional fees and full payment in advance, non-refundable.
Discounted wedding party packages are available!
"Wear your dreams and live the magick!" Allow us to create something magnificent for you!
If, after reading all of the information in this item's description,
you have any remaining questions, please feel free to contact us:


"The Accolade" by Edmund Blair Leighton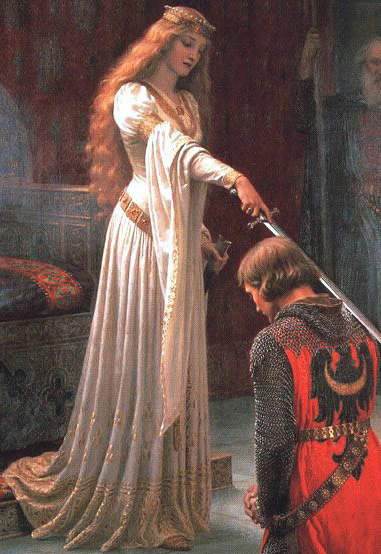 The material of the gown depicted in the painting is a creation of the artist's imagination and is impossible to match precisely. I have chosen to make the gown available in several different materials and you may choose which you feel comes the closest.