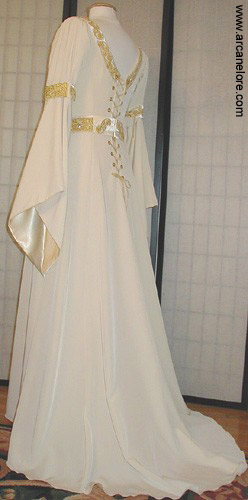 Shown in Candlelight peach skin faille.
This gown is modeled after the gown worn by the princess depicted in the Edmund Blair-Leighton's beautiful painting
"The Accolade".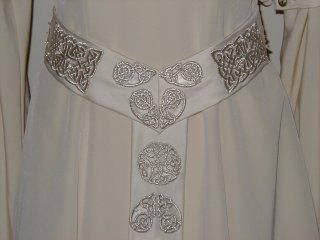 Shown Candlelight gown
with Ivory/silver long belt
Belts may be purchased individually - $250
We offer three styles please see the classic celtic accolade, Medieval celtic accolade and the elite celtic accolade.
Includes embroidery motifs in your choice of silver metallic, gold metallic, copper metallic, sapphire metallic or non metallic colors in over 200 shades and hand sewn Swarovski crystals.
We do not sell the embroidery motifs, cuffs or neckline pieces.
Classic Celtic Accolade Version of our most stunning gown.
The gown has relaxed fit bodice
adjustable arm cuff that can be laced tightly or loosely to fit the wearers desire.
Classic over sleeve with puffy top and belled lower over sleeve has a full soft drape.
The back of the gown laces closed through eyelets of silver tone, gold tone, or black,
beautiful chapel style train.
Celtic metallic embroidery in silver or gold at the neckline, cuffs, and medieval drop belt .
optional solid straight under sleeve that ends in a point over the hand or straight hand sleeve.
optional: Our fitting system for alterations assures a great fit for your gown ask for pricing
optional: Swarovski crystals scattered throughout the embroidery motifs.
Standard (as shown)- neck, belt arm cuff
Prices includes Gown, Arm bands, Belt, and toile fitting. Shipping is not included in price see order form for country. We ship world wide.
Fabric choices:
White, Ivory or Golden candlelight Silk dupioni. Candlelight Cream $

1450

US dollars
Peachskin faille
or White crepe. $1450 US dollars
White or Candlelight cream celestial or Romanza Jacquard $1450 US dollars

Velveteen *Special order only inquire for current special prices $1699

Be sure to see the Elite Celtic Velvet Accolade Gown