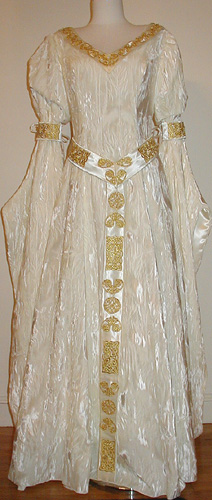 Gown shown in Candlelight Cream 100% crushed velvet with bridal satin sleeve lining. Embroidery motifs in dark gold metallic and scattered Swarovski crystals.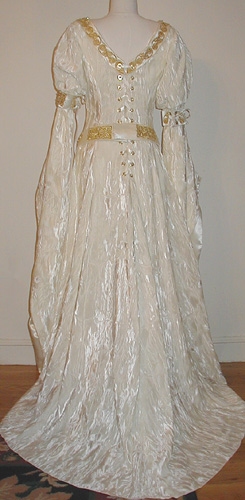 This gown is modeled after the gown worn by the princes depicted in the Edmund Blair-Leighton's beautiful painting "The Accolade".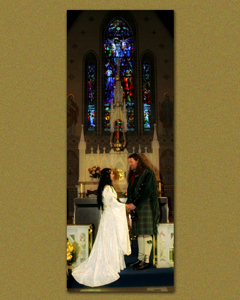 Congratulations to the new couple : Mr. & Mrs. Burns of Belfast Northern Ireland
A stunning version of our exclusive Celtic Accolade gown yet.
Made in the finest Rayon crushed velvet. Choose from candlelight, frosted silver or snow white White, Ivory or Golden candlelight Silk dupioni, Candlelight Peachskin faille or White crepe

silver, copper, or gold metallic embroidery motifs. (We also offer custom color velvet gowns or embroidery colors in non metallic threads please inquire with your needs.)

The gown has a relaxed fit bodice with princess seams,

adjustable arm cuff that can be laced tightly or loosely to fit the wearers desire.

Beautiful medieval near floor length sleeve lined in satin
optional: silk brocade or jacquard.

The back of the gown laces closed through eyelets of silver tone, gold tone, or black.

Chapel style train.

Medieval drop style belt with celtic embroidery motifs and crystals. (Belt design will vary by height)

Choose bridal satin or velvet contrasts.
optional: Hand beaded with hundreds of Swarovski crystals to add just the right sparkle.
Choose your Embroidered trim levels:

Prices includes Gown, Arm bands, Belt, and toile fitting. Shipping is not included in price see order form for your country. We ship world wide.

Prices are in United States Dollars (USD)
Standard Motifs- neck, belt and arm cuff shown price.
Beautiful Shantung satin $1799

Dupioni Silk - $1799

Crushed Velvet - $2299
as shown in photo to the left.


Noble Motifs- neck, belt arm cuff embroidery motifs plus sleeve hem
Beautiful Shantung satin $2299
Dupioni Silk - $2299
Crushed Velvet - $2899


*See our Royal Accolade gown for the fully embroidered version.
Royal Motifs - The ultimate gown includes Embroidery motifs to the neck, sleeve hem, skirt hem and belt. See the Royal Celtic Accolade gown
*Required minimum of 3-5 months required for this gown version or rush fees may apply.
*******************